Motocross Hydraulic Scissor Lift Dolly ConStands Cross-Lift XL with castors in red
Delivery time approx. 4-5 business days
This product does not fit the selected bike
We still deliver in time (also to GB and EU countries)
100 days carefree right of exchange
Our customer service is glad to assist you
Motocross lifting stand Manoeuvring aid
Large rubberized surface
Working height adjustable
Lifting with hydraulic pump pedal
For MX Offroad Bikes and Enduros
For garage, workshop or race track
Recess for access to oil drain plug
Easy manoeuvring with 4 double rollers (2 with brake)
Dimensions contact surface (LxW): 36 x 41 cm
Min. height: 31 cm (with castros 39 cm)
Max. height 77 cm (with castors 85 cm)
Max. load capacity: 135 kg
The motocross scissor lift "Cross-Lift XL" with castors by ConStands red
For those who want to jack up their bike without any problems and in a space-saving manner within a few seconds, the "Cross-Lift XL" motorcycle jack with rollers from the manufacturer ConStands is the perfect companion for the workshop and race track. Its simple but solid design made of robust steel allows you to operate it easily with a few hand movements and little effort. In addition, it promises a safe stand of your motorcycle during use. Due to its solid construction, the lifting stand is suitable for all motocross enduros, MX, trials and other off-road machines.
With the MX stand in red you can lift your motorcycle easily and quickly. With the foot pedal you can adjust the working height individually between 31 and 77 cm. This makes repair and service work on your model more convenient. In addition, a recess in the motorcycle stand gives you easier access to the oil drain plug of your Enduro, Motocross or MX. During the entire use of the Enduro lift stand, your motorcycle model will experience absolute stability and firm footing - even when jacked up. Thanks to the large rubberised support surface of the lifting stand, your motorcycle can rest securely without wobbling or slipping. The rubber coating on the stand also protects against scratches and other damage. With your delivery you will receive 4 double rollers (2 rollers with brake) in addition to the motorcycle jack for Enduro, Motocross or MX. These can be quickly mounted on the feet of the motorcycle jack. So you can manoeuvre your jacked up Enduro, MX or Motorcross quickly and easily in the room and have with the "Cross-Lift XL" with wheels a practical combination of lifting stand and manoeuvring aid.
Hydraulic lifting stand and manoeuvring aid
For Offroad and Supermotos (Enduro, MX, Motorcross)
Working height individually adjustable with foot pedal
Stand absolutely stable and safe
With recess for oil drain plug
Rubberized supporting surface (LxW): 36 x 41 cm
Incl. 4 double rollers (2 with brake) for manoeuvring
Min. height: 31 cm (with rollers 39 cm)
Max. Height: 77 cm (with rollers 85 cm)
Max. load capacity: 135 kg
Colour: red
The motocross stand "Cross-Lift XL" with wheels from the manufacturer ConStands in red is ideal for your motocross, enduro or MX machines. It is practical and functional in its use, qualitatively processed and promises an easy handling. In addition, the motorcycle lifting stand convinces with its price-performance ratio. With a net weight of approx. 29.5 kg, the Motorcycle Lift has a maximum load capacity of 135 kg.
Assembly - This is how it's done!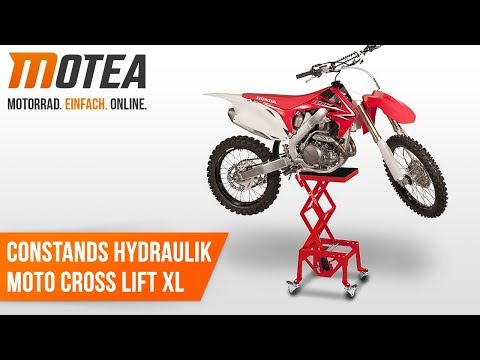 Fits on the following models:
Make

Model

Year

Model

PR5 Enduro Extreme 250

Model

SX-125-Super Moto | SX125MY

Model

BT 450 Enduro GS/LX

Model

BT 450 MX Moto Cross

Model

BT 450 SM Supermoto

Model

Senda 125 Terra | 125TERRA

Model

CRE-F 250/ 450/ 500

Model

FE 125/ 250/ 350/ 390

Model

FE 500/ 501/ 550/ 570

Model

FS 400/ 450/ 550/ 650

Model

Nuda 900/ R | NUDA900

Model

XRX 125/ Funduro | RX125 

Model

640 Adventure | 620EADVENT 

Model

640 Duke II |  640DUKE/II 

Model

640 Supermoto |  640LC4/99 

Model

690 Supermoto SM/ R | 690SM 

Model

950 Adventure/ S | LC8 

Model

950 Super Enduro/ R | 950SUPENDU 

Model

950 Supermoto SM/ R

Model

950 Supermoto SM/ R | 950SM

Model

950 Supermoto SM/ R | R

Model

990 Adventure/ R/S | 990ADVENTU 

Model

Freeride 250 R | FREERI250R 

Model

Freeride 350 |  FREERI/350 

Model

Enduro 125 DD | ENDU125DD 

Model

Supermoto 125 DD | SUMO125DD 

Model

Trial 0.5/ 0.8/ 1.25

Model

Trial 2.5/ 2.9/ 3.2

Model

DR-650-SE | DR 650 SE

Model

DR 350 S-SE | SK42B 

Model

TT-600 R-RE | DJ012

Model

TT-600 R-RE | DJ012/04

Model

TT-600-S | 4LW/TT600S

Model

XT-125-R | XT125R/7401

Model

XT-125-X | XT125X/7401
2 reviews for
Motocross Hydraulic Scissor Lift Dolly ConStands Cross-Lift XL with castors in red
Excellent
5.00/5.00