Motorbike Paddock Stand ConStands Center Pro in black matt
Delivery time approx. 4-6 business days
This product does not fit the selected bike
Motorcycle Central Lift Center Pro
Absolutely stable
Simple jacking up
High accuracy of fit
Optimally suited for overwintering
For mobile and stationary use
Various recording options
Incl. 2 threaded bolts with 1/2 inch mounting
Anti-tilt work on wheels, engine and fork
For models with freely accessible mounting of the swing arm
The central paddock stand Center Pro from ConStands in black matt

With the motorcycle central jack "Center Pro" of the brand ConStands you can jack up your complete bike effortlessly and within shortest time. Absolutely stable on the ConStands stand, you can carry out tilt-resistant repair, assembly work or work on tires, engine and fork more easily. This means you can't imagine the workshop or garage of a professional or hobby handyman without the motorcycle jack. In addition to stationary use, the Hi-Q Tool is also ideal for mobile use on the racetrack or for wintering your bike.
The "Center Pro" motorcycle stand from ConStands is suitable for lifting all motorcycles with freely accessible mounting of the swingarm. Depending on the design of the swing arm axle on the motorcycle, there are different ways of mounting it. On the one hand there is the possibility of using a standard threaded bolt. On the other hand, there is the possibility of attaching a socket on the threaded bolt (1/2 inch mounting). With the latter alternative, it should be noted that the sockets are not included in the scope of delivery, but must be purchased separately. With the "Center Pro" stand, ConStands has developed a motorcycle jack that promises an extremely stable stand for your machine due to its absolute accuracy of fit.
Simple jacking up of the complete machine
Absolutely safe and stable stand
Simplifies repair, maintenance and service work
For motorcycles with freely accessible swing arm mounting
With different recording possibilities
Tilt resistant working on your bike
High accuracy of fit
For stationary and mobile use
Optimally suited for overwintering
Incl. 2 threaded bolts with 1/2 inch mounting
The Hi-Q universal lift "Center Pro" from ConStands is a top product, which is characterized by its quality as well as its functionality. It promises you effortless jacking up of your motorcycle. So you can carry out maintenance, repairs and service easier and safer in the future. That's why the ConStands jack is part of every good biker equipment. In addition to the jack itself, you will also receive 2 threaded bolts with 1/2 inch mounting with your delivery.
Assembly - This is how it's done!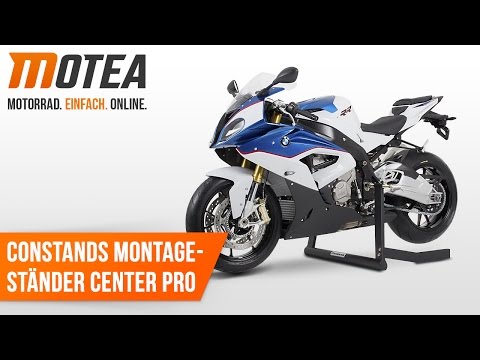 Fits on the following models:
Make

Model

Year

Model

Dorsoduro 750 | DORSO750

Model

Dorsoduro 900 | DOR900

Model

Dorsoduro 1200 | DORSO1200

Model

Falco SL-1000 | ZD4PA

Model

Mana 850 GT | NA850GT

Model

Pegaso 650 Strada/Factory | STRADA

Model

Pegaso 650 Strada/Factory | VD

Model

Pegaso 650 Trail | TRAIL

Model

RSV-1000-R (Mille) | RR

Model

RSV-1000-R (Mille) | RSV10R/06

Model

RSV4-RF | RSV4RF/17

Model

RSV4-RR | RSV4RR/15

Model

RSV4-RR | RSV4RR/17

Model

Shiver 900 | SHI900/17 

Model

Tuono 1000/ R | TUONO1000R

Model

Tuono 1000/ R | TUONO 

Model

Tuono 1000/ R |  RP

Model

Tuono V4 1100 Factory

Model

Tuono V4 1100 Factory |  TUOV4FA/17

Model

Tuono V4 1100 RR / Factory |  TUONOV4/15 

Model

G-310-GS | G310GS/17

Model

R-1200-RS | R12RS/17

Model

TnT-1130 Cafe Racer

Model

TnT-1130 Cafe Racer | TNT1130CR

Model

Tornado 900 Tre | TORNADO900

Model

Tornado 1130 Tre | TORN1130

Model

TreK 1130 | TREK1130

Model

848 Evo |  848EVO/13 

Model

899 Panigale | M803 

Model

959 Panigale | PANIG959 

Model

Hypermotard 796 | HYPER800 

Model

Hypermotard 939 | HYPER939 

Model

Hypermotard 1100/ Evo | HYPERMOEVO 

Model

Hypermotard 1100/ Evo | HYPERMOT 

Model

Hyperstrada 939 | HYPERS939 

Model

Monster 600 | ZDM600M 

Model

Monster 620 | M620S 

Model

Monster 750 | M750MONST 

Model

Monster 800 | M800MONST 

Model

Monster 900 | ZDM900M 

Model

Monster 1000 | M1000SIE 

Model

Monster 1100 Evo | M1100EVO 

Model

Monster 1100 | MONST1100 

Model

Monster S2R 800 | M4 

Model

Monster S4 | ZDMM400 

Model

Monster S4RS | S4RS 

Model

Monster S4R | MONST/S4R 

Model

Monster S4R | MONSTS4RTE 

Model

Monster S4R | Monster S4R

Model

Multistrada 620 | MULTIST620 

Model

Multistrada 1000 |  1000DS/03 

Model

Multistrada 1100 | MULTI1100 

Model

Multistrada 1200 Enduro |  MULT12E/16 

Model

Multistrada 1200/ S | MULTI1200 

Model

Multistrada 1200/ S |  MULTI12/13 

Model

Multistrada 1200/ S |  MULTI12/15 

Model

Multistrada 1260 Enduro

Model

Multistrada 1260 Pikes Peak

Model

Multistrada 1260 Pikes Peak

Model

Multistrada 1260 S D-Air

Model

Multistrada 1260-S D-Air

Model

Scrambler 1100 Special

Model

Scrambler 1100 Sport

Model

Scrambler Café Racer

Model

Scrambler Café Racer |  SC/CR/17 

Model

Scrambler Classic | SCRAM 

Model

Scrambler Desert Sled

Model

Scrambler Desert Sled | SC/DS/17 

Model

Scrambler Flat Track Pro

Model

Scrambler Full Throttle

Model

Scrambler Full Throttle

Model

Scrambler Full Throttle

Model

Scrambler Sixty2 | SCRAM62 

Model

Scrambler Street Classic

Model

Scrambler Urban Enduro

Model

Supersport 900 SS | ZDM906SC2 

Model

Supersport 1000 SS/DS

Model

CBR-500-R | CBR500R/16 

Model

CBR-900-RR Fireblade

Model

CBR-900-RR Fireblade

Model

CBR-900-RR Fireblade

Model

CBR-900-RR Fireblade

Model

CBR-900-RR Fireblade

Model

CBR-900-RR Fireblade

Model

CBR-1000-RR-R Fireblade

Model

CBR-1000-RR-R SP Fireblade

Model

CBR-1000-RR Fireblade

Model

CBR-1000-RR Fireblade

Model

CBR-1000-RR Fireblade

Model

CBR-1000-RR Fireblade

Model

CBR-1000-RR Fireblade

Model

CBR-1000-RR Fireblade

Model

CBR-1000-RR Fireblade SP

Model

CBR-1000-RR Fireblade SP-2

Model

CBR-1100-XX | SC35C 

Model

CBR-1100-XX | SC35G 

Model

Crosstourer | CROSST/16

Model

NTV-650 Revere | RC33 

Model

NX-650 Dominator | RD02 

Model

NX-650 Dominator | RD08 

Model

Transalp XL-600-V | PD06 

Model

Transalp XL-600-V | PD10 

Model

Transalp XL-600-V |  PD06/94 

Model

Transalp XL 700 V | RD15 

Model

Transalp XL 700 V |  RD13

Model

VFR-750-F |  RC24/G/H 

Model

VFR-750-F |  RC24/J 

Model

VFR-750-F |  RC36/L 

Model

VFR-750-F |  RC36/R/V 

Model

VTR-1000-F Firestorm | SC36 

Model

VTR-1000-SP-1 | SC45 

Model

VTR-1000-SP-2 | SP/2 

Model

VTR-1000-SP-2 |  SC45

Model

Varadero 125 | JC32A 

Model

Varadero 125 | JC49 

Model

Varadero 125 |  JC32A

Model

Varadero XL-1000-V | SD01 

Model

Varadero XL-1000-V | SD02 

Model

Varadero XL 1000 V | SD03 

Model

Varadero XL 1000 V |  SD02

Model

Varadero XL 1000 V |  SD02/04 

Model

X-11/ X-Eleven | SC42 

Model

FE 125/ 250/ 350/ 390

Model

FE 500/ 501/ 550/ 570

Model

FS 400/ 450/ 550/ 650

Model

Nuda 900/ R | NUDA900

Model

TR 650 Strada | TR650STRADA

Model

TR 650 Terra | TR650TERRA

Model

GT 125 R | KM4MF51E

Model

GT 125 R | KM4MF52C

Model

GT 125 R | KM4MF55C

Model

GT 250/i N| KM4MJ51B

Model

GT 250/i N| KM4MJ55A

Model

GT 250/i N| KM4MJ57A

Model

GT 250/i R | KM4MJ55B

Model

GT 250/i R | KM4MJ57B

Model

GT 650/i N| KM4MP58

Model

GT 650/i N| KM4MP61A

Model

GT 650/i R | KM4MP54C

Model

GT 650/i R | KM4MP61C

Model

GT 650/i R | KM4MP61D

Model

640 Duke II |  640DUKE/II 

Model

640 Supermoto |  640LC4/99 

Model

690 Duke R | 690DUKE/R/13

Model

690 Duke R |  690DU/R/16 

Model

690 Duke R |  690DUKE/R/13 

Model

690 Duke |  690DUKE/10 

Model

690 Duke |  690DUKE/12 

Model

690 Duke |  690DUKE/14 

Model

690 Duke |  690DUKE/16 

Model

690 Supermoto SM/ R | 690SM 

Model

950 Adventure/ S | LC8 

Model

950 Super Enduro/ R | 950SUPENDU 

Model

950 Supermoto SM/ R

Model

950 Supermoto SM/ R | 950SM

Model

950 Supermoto SM/ R | R

Model

990 Adventure/ R/S | 990ADVENTU 

Model

990 Super Duke/ R | 990SDR/08

Model

990 Super Duke/ R |  990SDR/07 

Model

990 Super Duke/ R |  990SDR/08 

Model

990 Supermoto SM/ R

Model

990 Supermoto SM/ R |  990SM/R 

Model

990 Supermoto SM T | 990SMT 

Model

1050 Adventure | 1050ADV/15

Model

1190 Adventure/ R |  1190R/13 

Model

1290 Super Adventure R

Model

1290 Super Adventure S

Model

1290 Super Adventure T

Model

1290 Super Adventure |  1290SA/15 

Model

GPZ-500-S | EX500A/B

Model

GPZ-500-S |  EX500A

Model

GPZ-500-S |  EX500A/A

Model

GPZ-900-R |  ZX900A/1/6 

Model

GPZ-900-R |  ZX900A/7/10 

Model

KLV-1000 | KLV1000A 

Model

Ninja 250-R | EX250K 

Model

Versys 1000 | LTZ00B/17

Model

Versys 1000 | LZT00A 

Model

Versys 1000 |  LZT00B/15 

Model

Vulcan S | EN650AGF 

Model

Z-750-R |  ZR750N/P 

Model

Z-750-S |  ZR750J/K 

Model

ZX-12R |  ZXT20A/B04 

Model

ZXR-400 | ZX400L1/L3

Model

ZXR-400 |  ZX400L5/L9 

Model

ZXR-750 R |  ZX750L/M2 

Model

ZXR-750-R |  ZX750J/K 

Model

ZXR-750-R |  ZX750L/M1 

Model

ZZR-600 | ZX600E4/13

Model

ZZR-600 |  ZX600E1/3 

Model

ZZR-600 |  ZX600E4/13 

Model

ZZR-1100 |  ZXT10C/C 

Model

ZZR-1100 |  ZXT10D/D 

Model

ZZR-1100 |  ZXT10D/G 

Model

Skycruiser 125 |  SKYCRU/125 

Model

Brutale 750 |  BRUTALE/S 

Model

Brutale 800 Dragster | DRAGSTER800/14 

Model

Brutale 910 R/S | BRUTALE/R

Model

Brutale 910 R/S | BRUTALE910 

Model

Brutale 1078 RR | BRUTALE107 

Model

Brutale 1090 R |  BR1090/13 

Model

Dragster 800 RR | DRAG800RR 

Model

F4 1000 RR |  F4/1000RR/13 

Model

F4 1000 R |  F4/1000/13 

Model

F4 1000 |  F4/1000/10 

Model

F4 1000 |  F4/1000S 

Model

Stradale 800 | STRADALE 

Model

Turismo Veloce 800 | TURISMO 

Model

Corsaro 1200 | CORSAR1200 

Model

Corsaro Avio 1200 | AVIO 

Model

Corsaro Veloce 1200

Model

Scrambler | MMSCRAM 

Model

Sport 1200 |  12SP/09 

Model

Bandit 600 S |  WVA8/S 

Model

Bandit 600-S |  GN77B/96 

Model

Bandit 650 S |  WVB5/S 

Model

Bandit 650 S |  WVCJ/S/07 

Model

Bandit 650 S |  WVCZ/S 

Model

Bandit 650 |  WVCJ/07 

Model

Bandit 1250 S |  GSF1250S/15 

Model

Bandit 1250 S |  WVCH/S 

Model

Bandit 1250 |  WVCH/10 

Model

Bandit 1250 |  WVCH/K7 

Model

DR-650-SE | DR 650 SE

Model

DR-750-S BIG | SR41B 

Model

DR-800-S BIG | DR 800 S BIG

Model

DR-800-S BIG | SR43B 

Model

DR 350 S-SE | SK42B 

Model

GS-500- E | GM51B/K/S 

Model

GS-500- E |  GM51B/T/Y 

Model

GSX-1250 F- FA | WVCH/GSX1250F 

Model

GSX-1400 |  WVBN/05 

Model

GSX-R-1100 | GU74C/G

Model

GSX-R-1100 | GU74C/H 

Model

GSX-R-1100 |  GU75C/P/R 

Model

GSX-R-1100 |  GU75C/S/T 

Model

GSX-R-1100 |  GV73C/K 

Model

GSX-R-1100 |  GV73C/M/N 

Model

GSX-R 1100 |  GV73C/L 

Model

GSX-S-1000-S Katana

Model

Hayabusa |  WVA1/04 

Model

Hayabusa |  WVCK/L3 

Model

Inazuma 250 | GW250 

Model

V-Strom 650 XT | JS1C7 

Model

V-Strom 650 |  WVB1/07 

Model

V-Strom 1000 | WVBS 

Model

V-Strom 1000 | WVDD 

Model

Daytona 675 R |  D67LC/R 

Model

Daytona 675 R |  H67/R 

Model

Daytona 675 | D67LC 

Model

Daytona 675 |  D67LC/09 

Model

Street Triple Rx |  STRTRRX 

Model

Street Triple R |  D67LD/R/12 

Model

Street Triple R |  D67LD/R 

Model

Street Triple R |  STRTR/R/13 

Model

Tiger 800 XC | A082

Model

Tiger 800 XC | C201

Model

Tiger 800 XC | C301 C301A C302A

Model

Tiger 800 XC | C302 

Model

Tiger 800 XR | A082

Model

Tiger 800 XR | C201

Model

Tiger 800 XR | C301 C301A C302A

Model

Tiger 800 XR | C302

Model

Tiger 800/ XC | A08/XC 

Model

Tiger 900 | T709/711 

Model

Tiger 955i | T709EN 

Model

Tiger 955i |  709EN

Model

Tiger 1200 Explorer XC |  TIGEPXC/13 

Model

Tiger 1200 Explorer XC |  TIGEPXR/16 

Model

Tiger 1200 Explorer XR |  TIGEPXC/16 

Model

Tiger 1200 Explorer | V13VG

Model

Tiger 1200 Explorer | V13VG 

Model

Tiger Sport | TIGSP/16

Model

Tiger Sport |  115NG/SPORT 

Model

Tiger Sport |  TIGSP/16 

Model

FZ1 Fazer | RN16/FAZER

Model

FZ6 Fazer S2 | RJ149

Model

FZR-600- R | 3HE/3RG/3RH

Model

FZR-600- R | 4JH/4MH

Model

FZS-600 Fazer | RJ021

Model

FZS-600 Fazer | RJ021/022

Model

FZS-1000 Fazer | RN06/RN14

Model

FZS 600 Fazer | RJ025

Model

Fazer 8 (FZ8 Fazer) | RN25/FAZER

Model

Fazer 8 (FZ8 Fazer) | RN25/FZ13

Model

XJR-1200- SP | 4PU/SP

Model

XJR-1300 Racer | XJR13R/15

Model

XJR-1300 | XJR13/15

Model

XT-125-R | XT125R/7401

Model

XT-125-X | XT125X/7401

Model

XT-660-Z Tenere | DM021

Model

XT-660-Z Tenere | DM024

Model

XT-660-Z Tenere | DM04

Model

YZF-600-R Thundercat | 4TV

Model

YZF-600-R Thundercat | 4WD

Model

YZF-1000-R Thunderace | 4VD
62 reviews for
Motorbike Paddock Stand ConStands Center Pro in black matt
Excellent
4.60/5.00